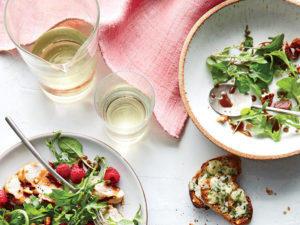 Ingredients
Cooking spray
2 (6-oz.) skinless, boneless chicken breast halves
1/4 teaspoon freshly ground black pepper
1/8 teaspoon kosher salt
3 tablespoons pecan halves
1 tablespoon light brown sugar
1 teaspoon butter
1/4 teaspoon hot sauce (such as Tabasco)Ground
4 teaspoons extra-virgin olive oil
1 1/2 teaspoons balsamic vinegar
1/2 teaspoon Dijon mustard
1/2 teaspoon minced garlic
4 cups arugula leaves
1/2 cup fresh raspberries
How to Make It
Heat a grill pan over medium-high heat. Coat pan with cooking spray. Sprinkle chicken evenly with pepper and salt. Add chicken to pan; cook 5 minutes on each side or until done. Remove chicken from pan; let stand 5 minutes. Cut across the grain into 1/4-inch-thick slices.
Place pecans in a small, dry skillet over medium heat; cook 4 minutes or until lightly toasted, stirring frequently. Stir in sugar, butter, and hot sauce; cook 4 minutes or until coated, stirring frequently. Remove pecan mixture from pan; cool. Coarsely chop.
Combine oil, vinegar, mustard, and garlic in a bowl, stirring with a whisk. Divide arugula between 2 plates. Top evenly with chicken, pecan mixture, and raspberries. Drizzle balsamic mixture over top.
CL:AG