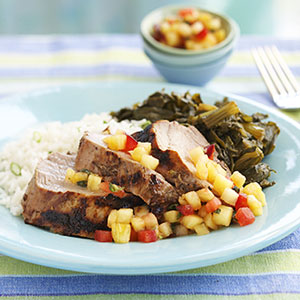 Ingredients
PORK:
1 1/2 cups chopped green onions
1/4 cup red wine vinegar
3 tablespoons brown sugar
2 tablespoons olive oil
2 tablespoons fresh lime juice
2 tablespoons low-sodium soy sauce
1 teaspoon salt
1 teaspoon ground allspice
3/4 teaspoon dried thyme
1/4 teaspoon ground cinnamon
1/4 teaspoon freshly ground black pepper
2 garlic cloves, peeled
1 habanero pepper
2 (1-pound) pork tenderloins, trimmed
Cooking spray
RELISH:
2 cups finely chopped pineapple
3/4 cup finely chopped ripe plum (about 3 medium)
2 tablespoons chopped fresh mint
1 tablespoon cider vinegar
1 tablespoon honey
2 teaspoons grated peeled fresh ginger
1 teaspoon low-sodium soy sauce
Preparation
To prepare pork, combine first 13 ingredients in a blender; process until smooth. Place green onion mixture in a large zip-top bag. Add pork to bag; seal. Marinate in refrigerator 8 hours or overnight, turning occasionally.
Prepare grill.
Remove pork from bag; discard marinade. Place pork on a grill rack coated with cooking spray; grill 23 minutes or until a thermometer registers 155° or until desired degree of doneness. Let pork stand 10 minutes. Slice pork into 1/2-inch-thick slices.
To prepare relish, combine pineapple and remaining ingredients in a bowl, stirring well. Serve with pork.
Cooking Light DT